Interesting Articles and Lectures
If you are interested in having Dr. Weiss give a lecture please contact the office at 760-753-3636 for further information.
More Consensus on Coffee's Benefits Than You Might Think
When I was a kid, my parents refused to let me drink coffee because they believed it would "stunt my growth." It turns out, of course, that this is a myth. Studies have failed, again and again, to show that coffee or caffeine consumption are related to reduced bone mass or how tall people are.
Coffee has long had a reputation as being unhealthy. But in almost every single respect that reputation is backward. The potential health benefits are surprisingly large. Read more....
New study warns against dietary supplements containing BMPEA, calls for FDA action Nearly a dozen supplements marketed to help consumers lose weight, improve athletic performance and enhance cognitive function are new cause for alarm. Researchers found an amphetamine-like substance known as BMPEA in products containing Acacia rigidula. Read more....
Consuming Excessive Soda May Cause Cancer
Consumption of too much soda may cause cancer, says a new study published online in the journal PLOS One. It has been found that about half of the Americans, above 6 years of age, are probably exposing themselves daily to a cancer-causing carcinogen. Previous studies have revealed that the human carcinogen 4-methylimidazole (4-MEI) is present in a number of sodas having caramel coloring. This cancer causing compound is sometimes produced during the manufacture of sodas. Read more....
Fat map: largest genetic blueprint of obesity revealed
Scientists have uncovered more than 90 new gene regions that could help explain why some people are more likely to put on weight than others. The team scoured DNA libraries of more than 300,000 people, constructing the largest-ever genetic map of obesity. Looking for consistent patterns they found a link with genes involved in brain processes, suggesting obesity could partly have a neurological basis. Read more....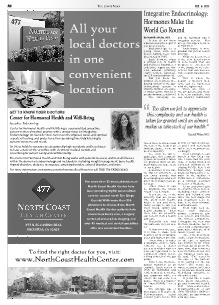 Integrative Endocrinology: Hormones Make the World Go Round
If you do not know what an endocrinologist is you are not alone. Endocrinology is a young field, with hormones having been first discovered in 1905. Each hormone plays a critical role in health and wellness. Examples of endocrine organs are .... Read more.... [Follow link and skip to Page A6]
Diabetes Technology
Home medical devices, as opposed to fitness products like activity-measuring wrist bands, have too often been stuck in the past, even as smartphones have zoomed ahead on hardware and software. A prime example is the device used by diabetics, a small gadget called a glucometer that analyzes a tiny drop of blood. Diabetics usually use these several times daily .... Read more....
Exercise as Potent Medicine
Exercise can be as effective as many frequently prescribed drugs in treating some of the leading causes of death, according to a new report. The study raises important questions about whether our health care system focuses too much on medications and too little on activity to combat physical ailments. For the study, which was published in October in BMJ,.... Read more....
Click here for more interesting articles on health and well-being.
Health Lecture Topics by Dr. Weiss
If you are interested in having Dr. Weiss give a lecture please contact the office at 760-753-3636 for further information.
The Skinny on Fat
Vitamin D: A Hormone in Disguise
Menopause: A Time to Pause
Menopause: An Integrative Approach
Women's Health Discussion: Questions and Answers
Medical Wisdumb
2015
Scripps Diabetes Support Group lecture
2011-2014 Golden Door Lectures on various health topics
2013 Distinguished Speaker Series
Danielle Weiss, MD presented Diabetes Care: Start the New Year Right, providing information on diabetes — from warning signs to prevention and leading-edge treatments — and strategies to enjoy good health on January 9, 2013.

2012 Distinguished Speaker Series
In 2012, Dr. Weiss presented "A, B, C, D's of Diabetes" at the 2012 Distinguished Speaker Series, presented by Scripps Health Foundation.

2011 Distinguished Speaker Series
On July 28, 2011, Dr. Weiss presented "Menopause: Alternatives to Hormone Replacement Therapy" at the 2011 Distinguished Speaker Series, presented by Scripps Health Foundation and community partner La Costa Glen:

Menopause is a natural part of a woman's life - with more than 70 percent of women experiencing symptoms. Join Danielle Weiss, MD, for the latest information on alternatives to hormone replacement therapy, complimentary approaches, and non-hormonal pharmaceuticals and treatment options. Also, learn how lifestyle changes, combined with diet and supplements can benefit you by alleviate unpleasant symptoms and improve the quality of your life.
Click here for a copy of the original mailing.
FDA NEWS RELEASE
For Immediate Release: June 2, 2011
Media Inquiries: JeffreyVentura, 301-796-2807, jeffrey.ventura@fda.hhs.gov
Consumer Inquiries: 888-INFO-FDA
FDA: Breast thermography not a substitute for mammography
Telethermographic, 'infrared' devices not approved for primary cancer screening
The U.S. Food and Drug Administration today warned women not to substitute breast thermography for mammography to screen for breast cancer.
Unlike mammography, in which an X-ray of the breast is taken, thermography produces an infrared image that shows the patterns of heat and blood flow on or near the surface of the body. Some health care providers claim thermography is superior to mammography as a screening method for breast cancer because it does not require radiation exposure or breast compression.
However, the FDA is unaware of any valid scientific evidence showing that thermography, when used alone, is effective in screening for breast cancer. To date, the FDA has not approved a thermography device (also referred to as a telethermographic device) for use as a stand-alone to screen or diagnose breast cancer. The FDA has cleared thermography devices for use only as an additional diagnostic tool for breast cancer screening and diagnosis. Therefore, FDA says, thermography devices should not be used as a stand-alone method for breast cancer screening or diagnosis.
"Mammography is still the most effective screening method for detecting breast cancer in its early, most treatable stages," said Helen Barr, M.D., director of the Division of Mammography Quality and Radiation Programs in the FDA's Center for Devices and Radiological Health. "Women should not rely solely on thermography for the screening or diagnosis of breast cancer."
The FDA has issued warning letters to some health care providers who have been promoting the inappropriate use of breast thermography. The letters instructed the providers to cease making claims that thermography devices, when used alone, are an effective means of detecting breast cancer. Claims have, for instance, appeared on some providers' websites.
The FDA encourages women to:
Have regular mammograms according to screening guidelines or as recommended by their health care provider;
Follow their health care provider's recommendations for additional breast diagnostic procedures, such as various mammographic views, clinical breast exam, breast ultrasound, MRI or biopsy; additional procedures could include thermography;
Remember that thermography is not a substitute for mammography and should not be used by itself for breast cancer screening or diagnosis.
"While there is plenty of evidence that mammography is effective in breast cancer detection, there is simply no evidence that thermography can take its place," said Barr.
Click here for more information.
---
RADIATION RISKS TO HEALTH
A Joint Statement from the American Association of Clinical Endocrinologists, the American Thyroid Association, The Endocrine Society, & the Society of Nuclear Medicine

March 18, 2011
The recent nuclear reactor accident in Japan due to the earthquake and tsunami has raised fears of radiation exposure to populations in North America from the potential plume of radioactivity crossing the Pacific Ocean. The principal radiation source of concern is radioactive iodine including iodine-131, a radioactive isotope that presents a special risk to health because iodine is concentrated in the thyroid gland and exposure of the thyroid to high levels of radioactive iodine may lead to development of thyroid nodules and thyroid cancer years later. During the Chernobyl nuclear plant accident in 1986, people in the surrounding region were exposed to radioactive iodine principally from intake of food and milk from contaminated farmlands. As demonstrated by the Chernobyl experience, pregnant women, fetuses, infants and children are at the highest risk for developing thyroid cancer whereas adults over age 20 are at negligible risk.
Radioiodine uptake by the thyroid can be blocked by taking potassium iodide (KI) pills or solution, most importantly in these sensitive populations. However, KI should not be taken in the absence of a clear risk of exposure to a potentially dangerous level of radioactive iodine because potassium iodide can cause allergic reactions, skin rashes, salivary gland inflammation, hyperthyroidism or hypothyroidism in a small percentage of people. Since radioactive iodine decays rapidly, current estimates indicate there will not be a hazardous level of radiation reaching the United States from this accident. When an exposure does warrant KI to be taken, it should be taken as directed by physicians or public health authorities until the risk for significant exposure to radioactive iodine dissipates, but probably for no more than 1-2 weeks. With radiation accidents, the greatest risk is to populations close to the radiation source. While some radiation may be detected in the United States and its territories in the Pacific as a result of this accident, current estimates indicate that radiation amounts will be little above baseline atmospheric levels and will not be harmful to the thyroid gland or general health.
We discourage individuals needlessly purchasing or hoarding of KI in the United States. Moreover, since there is not a radiation emergency in the United States or its territories, we do not support the ingestion of KI prophylaxis at this time. Our professional societies will continue to monitor potential risks to health from this accident and will issue amended advisories as warranted.
For additional information, please contact Stephanie Kutler, Director of Government and Public Affairs, at skutler@endo-society.org.
---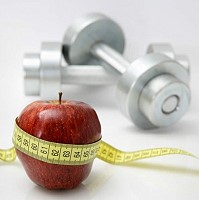 "The Skinny on Fat"
Wellness Seminar
"The Skinny on Fat" is an informative, engaging, tasteful buffet style overview on what we need to know about the one thing we love to hate.... fat! However, not all fat is bad, and indeed fat is required for good health!
Danielle Weiss, M.D. is a Stanford trained Endocrinologist specializing in metabolism, weight control, diabetes, hormonal issues and longevity. She will discuss how genetics, gender, age, hormones and lifestyle affect fat distribution, weight and metabolism.
You will learn about the different types of fat, how to have more than a fat chance of success with weight issues and the changes that occur in metabolism at different stages of life. Dr. Weiss will also provide important insights into what we can do to control our personal metabolic balance, improve our energy levels and enhance our longevity.